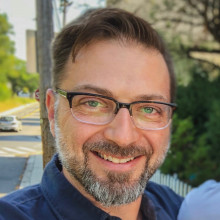 A native New Yorker, I currently live and work in the greater Boston area. I spend my days as a builder of quality user interfaces and web applications in my development consultancy, Kimili.
In addition to making a better web for clients, I'm building a few new community sites. Older Coders is a meeting place for programmers who feel the pressures of being an elder in the tech world, while Repertoireist, a social and practice site for musicians. You may also be counting the days before you retire with a silly site I built.
I've been a musician for nearly as long as I can remember. The guitar is my primary instrument, and while I used to play mostly rock, I've pushed aside the amps, pedals, and whammy bars in favor of the more acoustic sounds, playing mostly Classical and Jazz music.
Elsewhere online, I'm active on Twitter. I occasionally post music videos on YouTube, photos on Flickr, and audio on SoundCloud.
Contact Me
If you're on Twitter, feel free to reach me there. Alternatively, you can also email me at bester@hey.com.
Colophon
This site is running on Statamic, a flat file CMS that is fast, simple, and a pleasure to use. I host it (along with many other sites I manage) on Digital Ocean. The typefaces—Brandon Grotesque for the headers and Rooney Web for the body copy—are served up via TypeKit.